Hi, everyone
I continued working with emotion recognition from speech using the database IEMOCAP but now using four classes (sadness, anger, happiness and neutral) which are the classes with more data. The accuracy dropped to about 64.5 %, which is lower than in this paper from one year ago which achieved up to 68.8 % using convolution layers and LSTMs.
The confusion matrix shows difficulty in classifying the "happiness" category: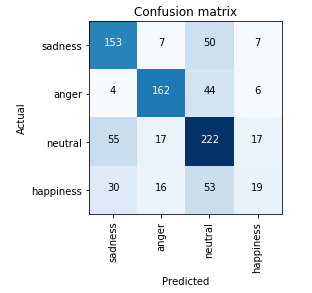 I believe there's room for improvement using data augmentation, which should be performed directly on the waveform, before spectrogram calculation.
Cheers