Good afternoon!
I am having some troubles in understanding how get_val_idxs() works. I have a super large dataset, and I do not want all the (half a million) samples to train, it gets painfully slow. I decided that I could assign more samples to the validation set, to make the training set less populated in a simple way. However, when I try to increase the parameter val_pct (the default is 0.2), i get back an empty list. This does not seem to happen when I call it with val_pct<0.2.
Worst thing, it does so silently, so you only realize once you have loaded all your data, resized it, and go through the activation precomputing stage. Here there is a screenshot showing this behavior: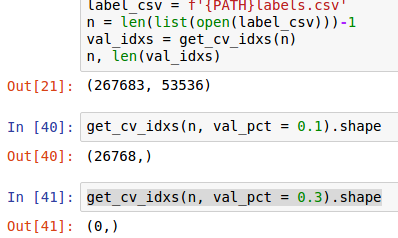 Can anyone help me to understand what's going on?
Thanks!