Hi all, I just completed the first week. I had a go at classifying painting styles using the dataset from the Painter by Numbers Kaggle competition (https://www.kaggle.com/c/painter-by-numbers/data).
I took the 20 most common styles from the training set (62k images) and ran them through the lesson notebook.
The loss seemed to stop improving after about 10 epochs (unfrozen), with accuracy just over the 60% mark, although it varied quite a lot by the style. The below is the confusion matrix, I used normalize = True since there were unequal numbers for each style.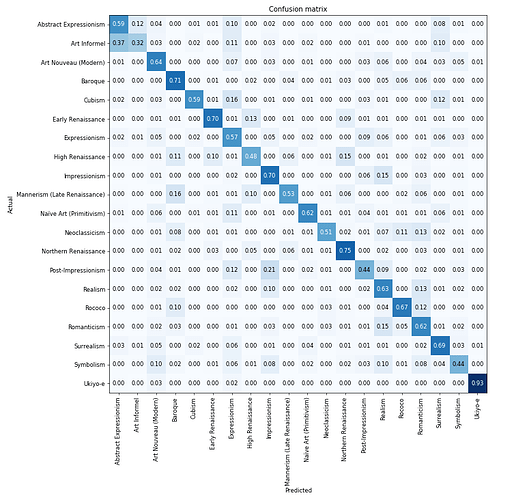 Worst performing was 'Art Informel', which got very confused with 'Abstract Expressionism' - this made sense since Wikipedia says that they were developed in parallel, the main difference being one was from Europe and the other from America. The best performing was 'Ukiyo-e' (92% accuracy) which is paintings from the Japanese Edo period (1603 and 1868) - the isolationism of the age reflected by a particularly distinctive style perhaps.
Really enjoying the course, onwards to week 2…