Are Ethics culturally driven? How do we deal with this in a global community?
Interesting to note that "cultural contexts for ethics" as in anthropological/ethnographic studies were not part of the Tech Ethics syllabi! Scaling tech outside of original contexts is a huge issue imo!
How would you solve the Trolley Problem? Or approaching it?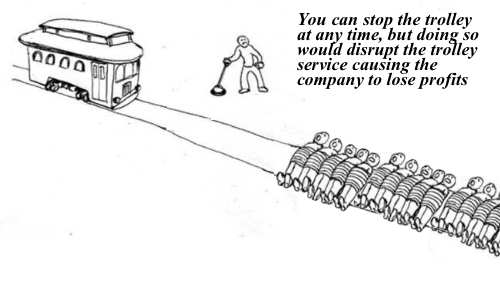 What are the red flags of ethical issues ? How does one identify such issues?
is there a concept of hippocratic oath for data scientist?
What policies are there for redress of these data mistakes? Privacy laws should cover these issues right? Or is it up to the individual?
Is there a particular process for the data being ingested into the feedback loop or a good sense of when should we be retraining the models and try to get the old data removed?
How do tech companies adhere to an eithical standard when it comes to developing machine learning software products? Isn't it sort of the 'wild west' in terms of all the developing capabilities?
If folks are interested in additional AI Ethics resources or want to post some, here is an old thread that's accessible to the entire community:

GDPR and XAI I guess are trying to do so
How can we protect for technology missuses? What kind of resources do people have available?
Should cars be regulated? Should planes be regulated?
Another controversial facial recognition application is Clearview AI
Are there any materials that we can use to do self study + will the slides be shared? Thanks! (Or is it all included in the fastbook? Apologies if I missed it!)
Yes, check the fastbook questionnaire (answers will be added later).