I am having problems with my model and I am trying to solve where exactly problems are occurring…
I started using ActivationStats.color_dim graphs to try to find where might be my problem… But then I am left trying to interpret the graphs to try to fix the underlying problems. I have read the original post about the graphs which was quite useful for interpretation.
But now I want to fix the layers where problems are occurring. For example here are the layers of my network: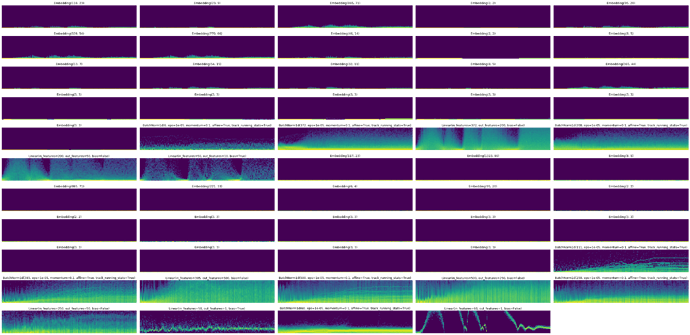 There are a several Linear layers which seems to have a concerning graph, for example:

But then I have a BatchNorm right after… So I guess this brings back the values to a normal range.
My question is what can I do to make those layers train more gracefully?
For anyone interested, I made a custom code snippet to plot all ActivationStats.color_dim graph for all layers in the model for anyone that could find this interesting (google didn't have much results on how to use ActivationStats):
stats = ActivationStats(with_hist=True)
learner = Learner(dls, model, cbs=[stats])

#... fit here...

layers = [m for m in flatten_model(model) if has_params(m)]

for i, layer in enumerate(layers):
    fig, ax = plt.subplots(figsize=(16, 32))
    ax.set_title(layer)
    stats.color_dim(i, ax=ax)