I've put up together a widget that can search and download images from Google Search and store them on disk, so that folks can play around with simple CNNs on their own dataset ideas!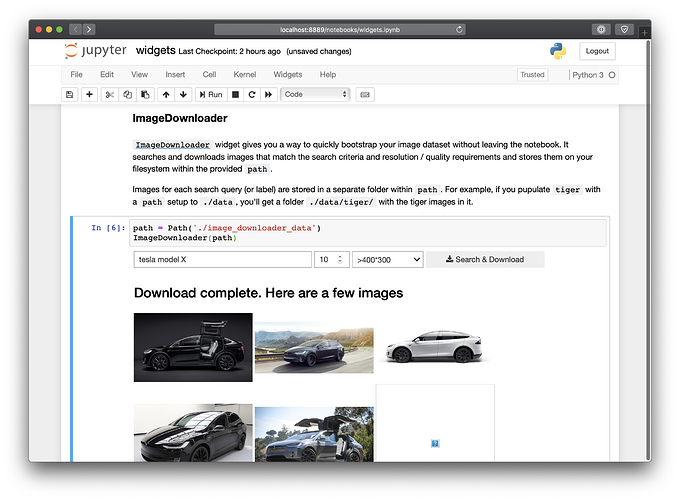 The good:
It's built as a part of the existing fast.ai widget system. As easy as ImageDownloader().
It works in both Notebook and Lab.
It's just 100 LOC.
I've included some examples in the documentation in docs_src and updated the docs, including how to create a data bunch and a learner with the images downloaded that way.
It allows folks to pick the resolution they want and how many images they want. It should work for 100+ images per label.
The ugly:
I've made this a couple weeks back and thought I'd finally share this as is. Here's my branch with it — if @lesscomfortable and @jeremy think it's good enough — I'll open a pull request.
upd: missed the link: https://github.com/xnutsive/fastai/tree/image_downloader
I can also add some examples in more novice-folks facing docs, maybe in examples folder? I think it makes sense to show this to more novice users, it's obviously not a super serious research tool and more of a playground feature.
One thing that can be improved is to pluck the algorithm and pieces of code from google_images_download to fetch image urls, and then use parallel version of download_images from basic_data to download them and hook all that to fastprogress widget. Not sure if I have time to do that this or next week though.
Another think to work on would be to check all the downloaded images after they've been downloaded and auto-delete all the broken ones, otherwise users might have problems with DataLoaders, and with num_workers > 0 they're tricky to debug.
@lesscomfortable, what do you think? Let me know if you'd like to to tweak this a bit, or if we can merge this and tweak it on the go.