Hi Everyone,
I have been billed under EC2 Elastic Compute Cloud while using t2.micro, here is the detail: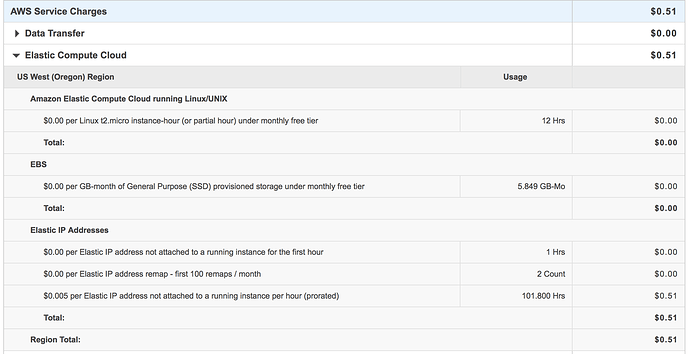 up to the point of this billing information I have only used t2.micro (I had mistakenly terminated one, but next day I got another. )
As wiki pointed out that when using t2, I will be charged if there is unused IP addressed. To avoid being charged for the unused IP address, we should release the unused IP address.
I think I have released all Elastic IP addresses.
So far, I have a t2.micro, a t2.large, and two Elastic IP addresses. for Both IP addresses, when I click Action, I have only two options available: Associate Address and disassociate Address. (release address is not available).

Was the reason why I continue to be charged that I released all IP addresses even after I stopped t2.micro?
In order to avoid being charged for like the picture shown, should I associate the two addresses again?
Thanks a lot
Daniel