I've been using this notebook (by @lesscomfortable) to get together my datasets about towers of the world.
However, with more than a few classes (using 12), I found it hard to just get all the folders created and the data download without the need of my manual intervention (1 by 1).
So… I went ahead and made this little code to loop it.
Write down the classes (names) you will be gathering data for.
Follow the notebook's first instructions and get your urls (file) from google images.
Upload all the files to the desired path (e.g 'data/towers'). Make sure you match the name 'urls_class'. I like hyphen on folders and underscores on files, but that's on me.
Run the cells. It will create the subfolders and download the data for each one of the classes.
Wait for you notebook to finish. Right upper corner to be empty circle. See this if you have questions about the latter.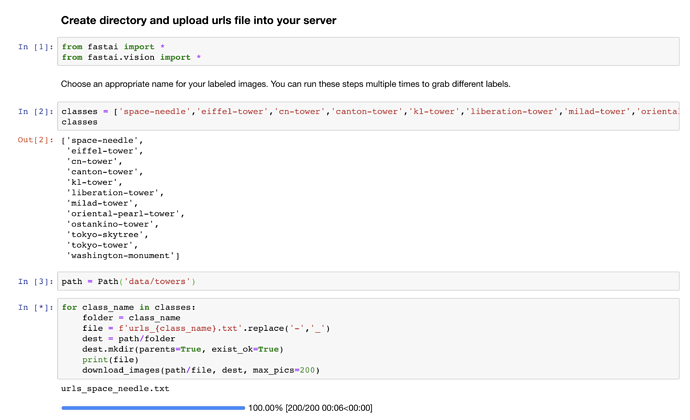 See all the code here

classes = ['space-needle','eiffel-tower','cn-tower','canton-tower','kl-tower','liberation-tower','milad-tower','oriental-pearl-tower','ostankino-tower','tokyo-skytree','tokyo-tower','washington-monument']

path = Path('data/towers')

for class_name in classes:
folder = class_name
file = f'urls_{class_name}.txt'.replace('-','_')
dest = path/folder
dest.mkdir(parents=True, exist_ok=True)
print(file)
download_images(path/file, dest, max_pics=200)