I'm working with ZCAWhitening which has been added in the kornia recently. You can find the implementation here
Mainly, this transform has following methods:
fit: ZCAWhitening requires you to first fit it on the data, potentially on whole dataset, but one batch willl do as well.
forward: Applies whitening transform to the data
inverse_transform: inverse transform to the whitened data
Here's my implementation:
class ZCAWhitenWrapper(Transform,GetAttr):
  "Wrapping kornia implementation"
  _default='_zca'
  @delegates(kornia.color.ZCAWhitening)
  def __init__(self,**kwargs):
    self._zca = ZCAWhitening(**kwargs)

  def setups(self,dl:DataLoader):
    if not self._zca.fitted:
      x,*_ = dl.one_batch()
      self._zca = self._zca.fit(x)
  
  def encodes(self,x:TensorImage): return self._zca(x)
  def decodes(self,x:TensorImage): 
    if self._zca.compute_inv:
      x = self._zca.inverse_transform(x)
    return min_max_scale(x)

I would like to know what could have been done better? especially, I want to get rid of self._zca.
cc: @sgugger
Results
The Cifar-10 preprocessing involves GlobalContrastNormalization and ZCAWhitening. The results of these steps are as follows:
Before preprocessing:

After preprocessing: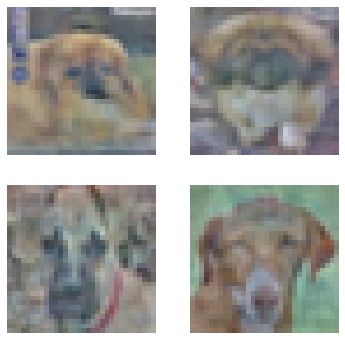 I've seen 2% error_rate improvement with GlobalContrastNormalization. Will update about ZCAWhitening soon.