Hello fast.ai community,
I have just gone through Part 1 of this course and in efforts to solidify the great information in the course, I decided to experiment with vision_learner using the Fruits 360 dataset on Kaggle (Fruits 360 | Kaggle)
I've followed the steps written out in the documentation to create a very basic version of vision_learner and it has great results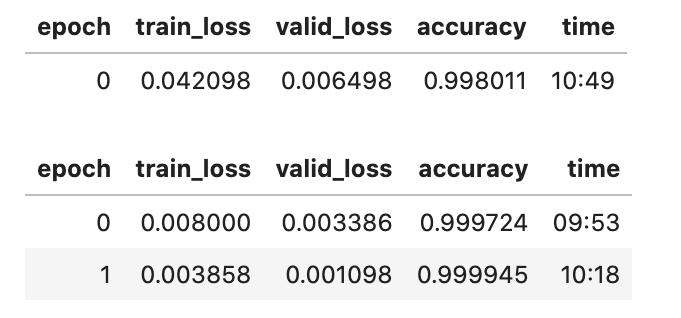 But I have some questions as to how I can predict with this model
When I grab a batch from the dataloader and try to do predictions on the training set, every prediction on the training sample returns the same predicted category while the corresponding y label is clearly changing
Xs, ys = dls.one_batch()
prediction1, y1 = learner.predict(Xs[0].cpu())[0], learner.dls.vocab[ys[0]]
prediction2, y2 = learner.predict(Xs[1].cpu())[0], learner.dls.vocab[ys[1]]
print(prediction1, y1)   # Output = 'Pear Kaiser', 'Walnut'
print(prediction2, y2)   # Output = 'Pear Kaiser', 'Guava'

Yet the error rate is negligible and when I run learner.show_results(), the model seems to be predicting each image into the correct class perfectly. What am I missing here or am doing wrong while using learner.predict?
I wanted to have a validation set as well as training set for this model, so I made my dataloaders like so
dls = ImageDataLoaders.from_folder(
    base_path, train='Training',
    valid_pct=0.2, seed=42, item_tfms=Resize(224)
)

However, this dataset also has a Testing set which I would like to use. What's the recommended approach to achieve something like this?