Hello, I was trying to use Lesson 3 Unet example with my data. I have 330 Sentinel 2 images (256 by 256 pixels) with masks. I was trying to segment out forest from the other types of landscapes. I trained the network for a bunch of epochs and managed to get to around 80% accuracy with 0.45-0.46 train and validation loss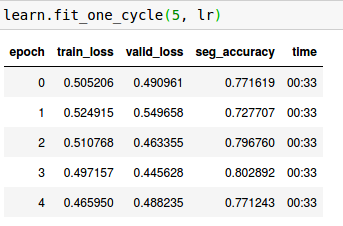 I used the same function from the course to measure accuracy. As for the choice of the learning rate, I used the same procedure describing in Lesson 3. Using lr finder.
From that point, I wasn't able to make loss any lower regardless of how many epochs I used for training. Also, I noticed that most of the time validation loss is slightly bigger than train loss (which, as I understand, is a sign of overfitting?).
I was trying to double-check my model on nonlabeled images. After 5-15 epochs, they started to segment out forests (even thou not very accurately). However, after further pieces of training model started to treat everything as non-forest.
Here is also my notebook:

Is the small amount of data the problem? Or maybe I am just missing something, as my expectation was that model has to start overfitting wildly at some point. However, it doesn't seem to. Would be very grateful for any ideas and suggestions. And actually happy to enter this wonderful community!