I'm trying to wrap my head around how I would scale-out classifications into a much larger number of classifications. Typically for transfer, learning we drop the last softmax layer and add the number of classifications. Usually, there are fewer classifications (Dogs vs. Cats is 37) but could take imagenet up to100,000 classes ("Dogs vs. Cats" for all the animal breeds!) it would look like this.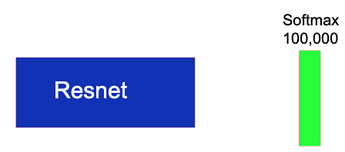 However, that doesn't seem right. I can't shake the feeling that there need to be more layers in this case. Just as imagenet has Animal -> Chordate -> Vertebrate -> Bird -> Parrot we could have a CNN to detect Animals. Make another CNN to detect Chordate, etc.
Or we could just make sure it is part of our model. Now I would think that we would add in additional layers. Like below, so that we could ramp up to the target state.


Is this a reasonable assumption, or am I just being a little crazy here? Are there any good papers on this type of problem?