Hi all,
I am following fastai v2 text classification tutorial (ULMFiT approach) using my own dataset. The first language model part went fine, thenI had an issue on loading my multilabel dataset for classification part.
I am currently on fastai 2.0.8. My dataset is a pandas dataframe and looks like this.

I then created a DataBlock object and called datasets I got this AttributeError: 'Series' object has no attribute 'proc_name' error which I cannot figure out.

Before I went into DataBlock approach I have also tried TextDataLoaders using label_delim but it ended up with unhashable type: 'list' error.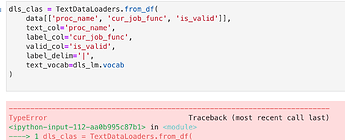 The main purpose is to create a dataset with multilabels to feed to the classifier. Any suggestions would be appreciated. Thanks.