The purpose of this topic is to share experiences with hyperparameter for training the Tranformer XL.
Here is my experience:
the architecture uses a lot of GPU which makes experimentation more lengthy. To minimize restarting the jupyter kernel i have started to use stas' "with gpu_mem_restore_ctx():" in the notebook when making grid search
training time to "convergence" increase dramatically as the number of data increases
training is very sensitive to hyperparameters setting and can diverge late in the training. i made a training that diverged after 120 hours
hyperparameters that works for small datasets does not necessarily work with large datasets so we need to find settings that are valid over a wide range (x1000 ) of datasets sizes
I started to run a semiautomatic grid search for hyperparameters start with 2.5e5 training data and 2.5e6 data.
In the experiment below i used:
nbtokens (using sentencepiece) =2.5e6
drop_mult=2
epochs=2:
pct_start vs max learning rate: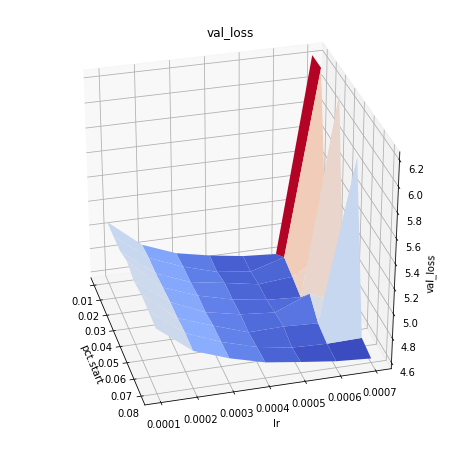 max_lr = 5e-4 gives the smallest loss and is independent of the shown range for pct_start. Higher values of max_lr are risky and often result in much higher loss.
lr_finder shows this. That is max_lr must be select to the left of the steepest slop.

for max_lr = 5e-4 pct_start = 0.02 result in the smallest loss.
max_lr vs moms.
Here i use:
drop_mult=1
epoch = 5
the plots show a center_moms used to set moms in fit_one_cycle to (center_moms-0.05,center_moms+0.05)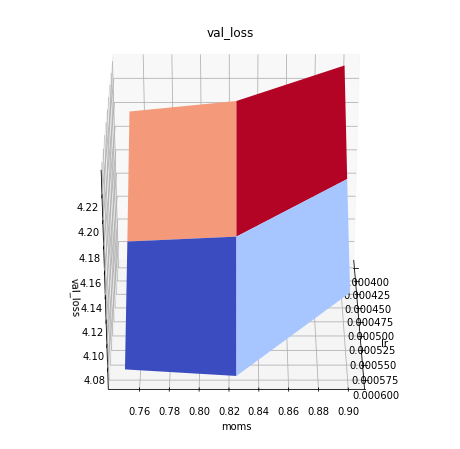 This and the table below shows that center_moms 0.9 is too high and that there is little difference between center_moms = 0.75 and 0.825 for equal max_lr
| | max_lr | moms | val_loss | train_loss |
| --- | --- | --- | --- | --- |
| 0 | 0.0004 | 0.900 | 4.236100 | 4.2085323 |
| 1 | 0.0004 | 0.825 | 4.206955 | 4.1826377 |
| 2 | 0.0004 | 0.750 | 4.198223 | 4.1608105 |
| 3 | 0.0005 | 0.900 | 4.183878 | 4.142299 |
| 4 | 0.0005 | 0.825 | 4.136231 | 4.0814295 |
| 5 | 0.0005 | 0.750 | 4.132095 | 4.082628 |
| 6 | 0.0006 | 0.900 | 4.136360 | 4.0789223 |
| 7 | 0.0006 | 0.825 | 4.066686 | 3.9977622 |
| 8 | 0.0006 | 0.750 | 4.072268 | 4.000567 |
The best setting so far are:
-pct_start = 0.02
-max_lr = 5e-4
-center_moms = between 0.75 and 0.825
Work to do:
confirm that pct-start must be low. I have done it for nb training tokens = 2.5e5 but need to to it for 2.5e6
analyse weight decay
increase nb training tokens = 2.5e8 then 2.5e9