The accuracy printed when the training is running is the training set accuracy (as shown below).
It can be seen that the training loss is decreasing steadily.
And at the same time we see, validation loss decreasing then increasing (after second epoch). This shows us that the model is overfitting.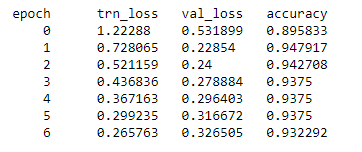 But why does the training set accuracy show a similar trend to the validation loss: that is increase then subsequent decrease (opposite because loss and accuracy are inversely related).
The training set accuracy show follow similar trends as the training set loss: accuracy should keep increasing with epochs.