Dear community,
My understanding is that Tabular Model works with 2 dimensions (rows + columns) tables as input dataset.
-> What would be the best way apply the model for multiple (more then 2) input dimensions?
Here the details:
My input data is a table (target is Price)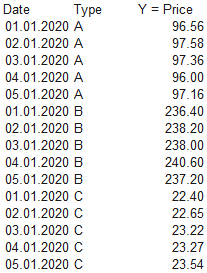 But I believe that in my domain, today's price might be very dependent from the prev days prices.
So I need this to put as input the previous n prices (in this case n = 3)


And this for all the types, so I need an other dimension:

Therefore the model can predict daily prices for all types using as input all the prev prices for all types.
-> Do you have any nice ideas how to achieve this with Tabular or with other Models?
-> Pandas DataFrame can have only 2 axis, so I am not able to build this 3d table using DataFrames. Any suggestions?