Ever taken a photo, but struggle to come up with the perfect social media caption?
Meet WittyTourist
GitHub: https://github.com/DaveSmith227/witty-tourist
It's a web app that gives you a witty caption when you upload a pic with a San Francisco landmark. The app detects the landmark in the photo (currently trained on 13 landmarks) and returns 1 of several pre-loaded captions for that landmark.
Enjoy the fun mock-ups with Danny Tanner and Nicholas Cage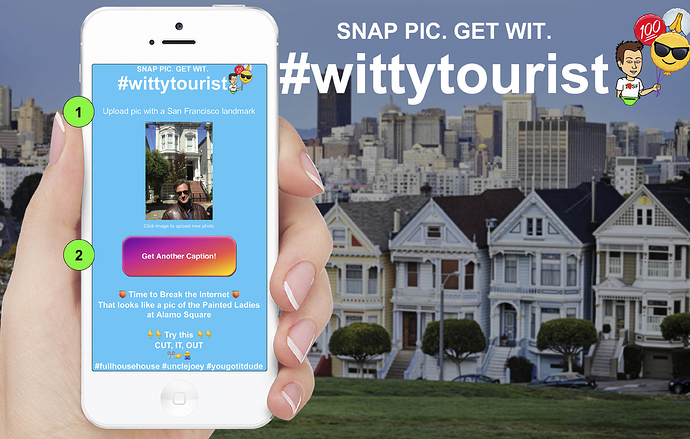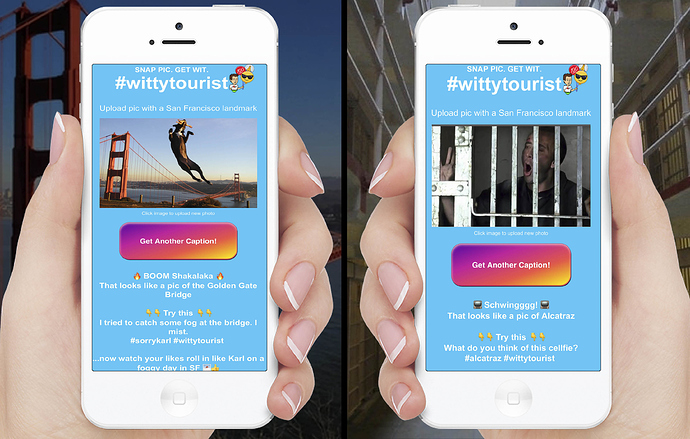 Building the dataset - I trained it with ~5,000 photos scraped from Instagram (and tediously hand-labeled…) and it achieves 97% accuracy on a separate test set (~1,000 images) scraped from Google.
Deployment - The app was deployed with Render which is SUPER EASY and updates immediately when you push new updates to your app's GitHub repo - thank you @anurag!
Jupyter notebook (on GitHub link above) - Walks through the full training loop, how to scrape images, and how to build and load a separate test set.
Training tip - Start training with 128x128 sized images and then re-train with the same images sized as 256x256 to improve accuracy as shown by Jeremy in Lesson 3 (my validation accuracy went from 91% to 95% without overfitting from this helpful tip).
I love playing "tour guide" to friends/family visiting SF and this toy project served as a fun way to learn a variety of new skills (learning the fast.ai library, deploying an app, HTML/CSS, etc…) and bring a bit of joy to others. I also got inspiration from @whatrocks's Clabby cousin app so thank you as well!
Let's continue to share and inspire each other's ideas