I am struggling with understanding what constitutes a categorical versus continuous variable.
In Notebook 9 (tabular) we are introduced to cont_cat_split() to automatically separate continuous from categorical variables. For tractor bluebook, when I call list of continuous variables, I get the following: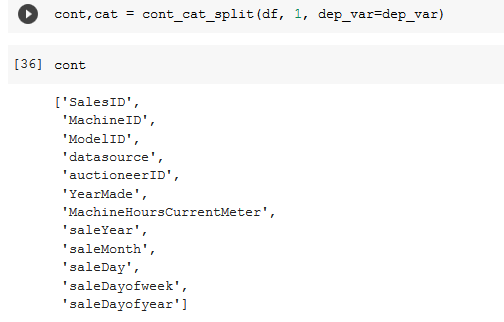 If I look at the 'auctioneerID' column, there are 31 unique auctioneers, and 412 698 entries. I expect that this is just a mischaraterization by the helper function, i.e. it should be categorical, not continuous. But how do we decide?
For example, is 'saleDay' continuous? There is some ordinality to days of the week but they aren't continuous like height or temperature. Same with many of the other continuous variables here.
Meanwhile, 'Blade_Width' has a range from <12' to 16' (with many values missing). I'd argue that it's categorical (as the helper function specifies) but is it more categorical than saleMonth, which is taken as a continuous variable?
So my questions are:
How you decide what to call categorical and what to call continuous when they have numbers that are ordinal?
How is the helper function deciding?
What is the role of the parameter max_card and why was max_card=1 chosen?
How do I override if I want to change what what the helper function specifies as a categorical or continuous variable?