Hi all,
While working through my material one thing I decided to show was how to save our made segmentation masks into .png's, similar to how CamVid's are. Here is how we do so (this works for both fastai1 and 2):
First, we'll grab some predictions:
preds = learn.get_preds()
From here, if we check out the shape we get the following:
preds[0].shape
torch.Size([5, 32, 360, 480])

What does this mean? My batch that I sent in had 5 images, so they are all stacked in a row. From here, we can then grab the actual classes by doing the following:
pred_1 = preds[0][0]
pred_argmax = pred_1.argmax(dim=0)

Now we get the following if we do plt.imshow(pred_argmax):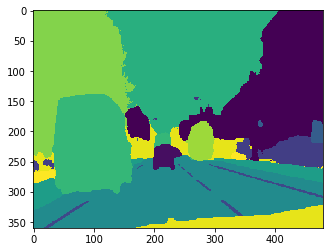 Great! So how do I save this away? Like so:
pred_argmax = pred_argmax.numpy()
rescaled = (255.0/pred_argmax.max() * (pred_argmax - pred_argmax.min())).astype(np.uint8)
im = Image.fromarray(rescaled)

Now our image (if we do im) looks like so: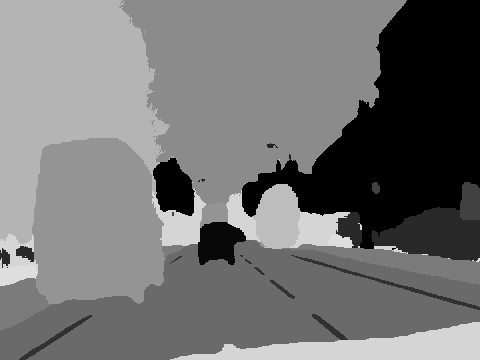 All that's left is to save it away!
im.save('test.img')