Hello. I'm trying to create a classifier that categorizes different Yelp reviews about career coaching businesses. I have around 110 labeled reviews.
The first time I ran the code, I got a max accuracy of 20%. The next time I ran it, I got a max accuracy of 66%. This is a very extreme example, but I'm commonly getting disparate accuracies by running the exact same code (that, as far as I can tell, involves no randomization). Here's the code:
data_clas = (TextList.from_df(df=clas_df, path=path, vocab=data_lm.vocab)
         .split_by_idx((range(0,30)))
         .label_from_df(cols=1)
         .databunch(bs=8))

learn = text_classifier_learner(data_clas, AWD_LSTM, drop_mult=0.5, metrics=[accuracy, AUROC()])
learn.load_encoder('fine_tuned_encoder')

learn.fit_one_cycle(1, 2e-2, moms=(0.8,0.7))

learn.freeze_to(-2)
learn.fit_one_cycle(1, slice(1e-2/(2.6**4),1e-2), moms=(0.8,0.7))

learn.freeze_to(-3)
learn.fit_one_cycle(1, slice(5e-3/(2.6**4),5e-3), moms=(0.8,0.7))

learn.unfreeze()
learn.fit_one_cycle(10, slice(1e-3/(2.6**4),1e-3), moms=(0.8,0.7), 
                   callbacks=[SaveModelCallback(learn,monitor='accuracy',mode='max')])

The first time through, I ran all of the code shown above, and got the following confusion matrix (20% max accuracy):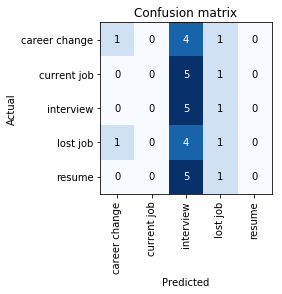 The second time through, I didn't run the first four lines (I just started by recreating the learner and then ran through all the training code). I got the following confusion matrix (66% max accuracy):

I assume in the first case the model is getting itself stuck in some sort of local minima; why does this sometimes happen? I see a lot of the time that the first few cycles have the model predicting all in one or two classes.
Upon running the code 3 more times, I ended up with following max accuracies: 56%, 70%, 60%. It seems to be trending around this general area, but a 14% difference is still quite large. I've seen similar cases around other accuracy levels as well.
Is the reason for this variation just that I have a small amount of data (so the initial starting weights have a bigger impact/variation), or is it something else?
Additionally, is it valid to go through this same code many times to save the highest accuracy model? I'm trying to use this model to predict the distribution of unlabeled reviews. Another concern is that certain errors are more preferable to others; for example, I would rather have lost job be misclassified as career change than as current job, since when you lose your job it's just you being forced into a career change.
Suppose one of the times that I train the model, it ends up commonly misclassifying lost job as career change (like in the second confusion matrix picture). Another time I train the model, it commonly misclassifies lost job as current job (what happened in the 70% accurate model).
Am I allowed to choose the model that I like best and assume that its tendencies will translate when predicting unlabeled reviews? Or is this invalid since the differences were just due to nuances in the training process?
Also, if anyone has any semi-supervised learning resources/guides they've used, that would be very useful.