When I attempt to go through the Lesson2 notebook, I run into a memory issue at the following line:


In an attempt to address the issue, I have done the following:
stopped all other notebooks currently running
restart the Lesson2 notebook kernel
stop/restart the instance
After restarting the Lesson2 notebook, I downloaded htop (an interactive process viewer) on my instance in order to look at all of the running processes and memory usage. Initially, the Memory usage was fairly low; however, by the time I get to the following lines:
save_array(model_path+ 'train_data.bc', trn_data)
save_array(model_path + 'valid_data.bc', val_data)

my memory usage is at 55.2GB/60GB. No other cells in the notebook are running at the time I check the memory usage.
Here's some information on my instance:
Instance type: p2.xlarge
Network interfaces: eth0
Source/dest. check: True
EBS-optimized: False
Root device: /dev/sda1
Block devices: /dev/sda1
Availability zone: us-west-2a
AMI ID: fastai-dl-01
Virtualization: hvm
When I df -h – here's the system info I get back:
Filesystem Size Used Avail Use% Mounted on
udev 30G 0 30G 0% /dev
tmpfs 6.0G 8.9M 6.0G 1% /run
/dev/xvda1 126G 18G 104G 15% /
tmpfs 30G 0 30G 0% /dev/shm
tmpfs 5.0M 0 5.0M 0% /run/lock
tmpfs 30G 0 30G 0% /sys/fs/cgroup
tmpfs 6.0G 12K 6.0G 1% /run/user/1000
Here's a screenshot of the processes running by the time I get to the load_array: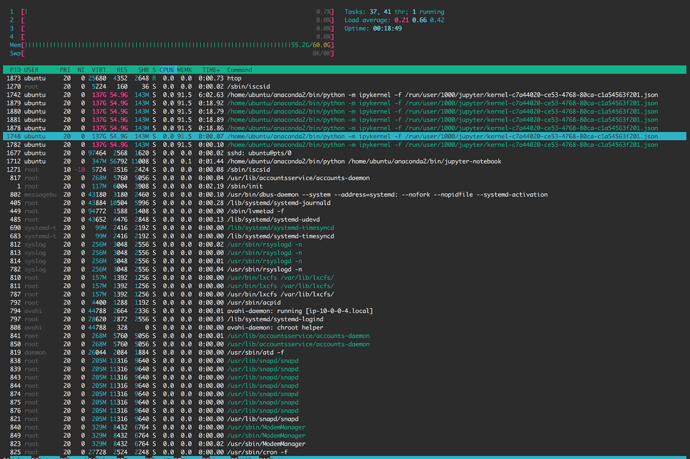 I hope I've given enough information
Has anyone else run into this problem? Any ideas on ways to get around the memory issue?