Hi everyone-
After spending a couple of bucks on AWS, i decided to build my own DL Machine rather earlier. I have a desktop machine containing:
ROG-STRIX-Z270E-GAMING motherboard
32GB RAM
NVIDIA GTX 1070 card
i7-7700K processor
M.2 SSD
Ubuntu 16.04 (dual boot with Windows 10).
I am new to Ubuntu and DL so am trying to optimize the system under Ubuntu. The particular issues i have-
While training the dogs and cats data set, Jupyter Notebook is almost not using the GPU rather using CPU (as it seems to me, the GPU Utilization is at around 5% while CPU is at 100%). Snapshots are below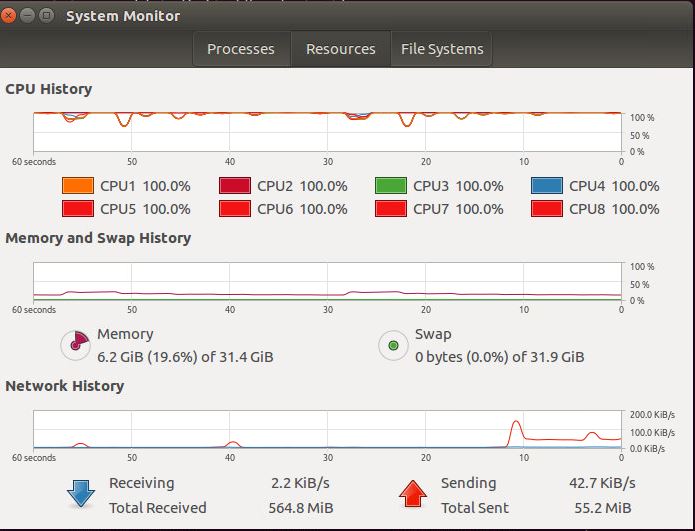 I think there is somewhere problem as the notebook should be using the GPU more than CPU. The settings in .theanorc are
[global]
floatX = float32
device = gpu
[cuda]
root = /usr/local/cuda
[lib]
cnmem = 1
Anybody has idea where and which setting i need to change to make it use the GPU ?
(not related to ML), the machine has water cooling and 6 casing fans and 3 GPU fans. GPU fans are idle when the GPU is idle but the fans and water pump are on high rpms making a good inconvenient noise even when CPU is idle. I tried lots of things mentioned on internet but somehow i cant seem to control the fans (in windows i can control the fans easily via Asus AI Suite 3).
I tried stuff mentioned here :
install lm-sensors
sensors-detect
sudo pwmconfig – never shows any fan or pump listed rather always says …no PWM modules installed…

here it is saying cpu_fan 0 rpm which obviously false as CPU is on full utilization and fans are working. It is taking more than an hour to train the model so far.
any help on this will make my DL experience much better
thanks!