Hello,
I followed this project to fine-tune an existing german model: https://github.com/jfilter/ulmfit-for-german.
Everything worked so far, but after learning the text_classifier_learner I cann't predict data. Everytime I call learn.predict(str) I get this error: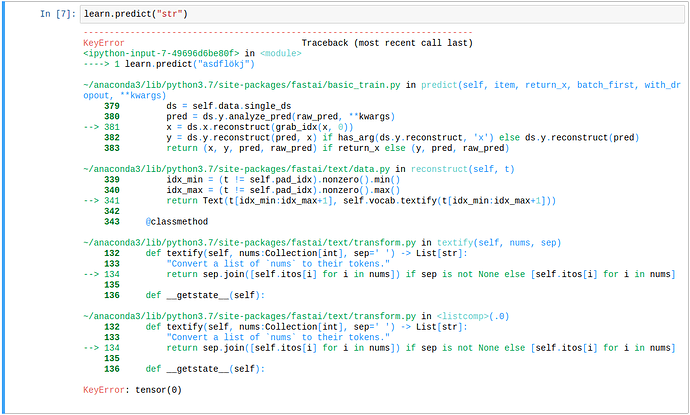 What I did so far:
I load the language_model_learner like this (it is a model trained befor 1.0.53 Major new changes and features):
config = awd_lstm_lm_config.copy()
config['n_hid'] = 1150
learn_lm = language_model_learner(data_lm, AWD_LSTM, drop_mult=0.5, pretrained=False, config=config)
learn_lm.load('./nets/ulmfit_for_german_jfilter')
I fine-tune it and save it with learn_lm.save_encoder('enc').
Then I load it with the text_classifier_learner:
config = awd_lstm_clas_config.copy()
config['n_hid'] = 1150
learn = text_classifier_learner(data_train, AWD_LSTM, drop_mult=0.5, config=config)
learn.load_encoder('enc', device='cuda:0')
and learnd the classifier on existing data.
Everything works fine (accuracy (while learning) looks ok), however I cann't predict anything with learn.predict("str") because of the already stated error.
Do anybody of you have an idea what the problem could be?
Yours,
Pa