Hi, I've been using code that's pretty much exactly from the documentation here https://docs.fast.ai/tutorial.datablock.html#Text.
I'm using a csv file, each line has a word or short phrase, followed by a country, and then is_valid=true ( I don't have any invalid data… is this required? My apologies, I'm new to AI). fast.ai loads the csv and previews fine (see screenshots). Then I get an indexer error on the dataloader call:
IndexError: single positional indexer is out-of-bounds
Here are some screenshots and a stack trace. I've tried a few difference sequence lengths and batch sizes (none of the names are longer than 100 for sure). Anything else I can try to get dataloader to accept the data?
Thank you for your help!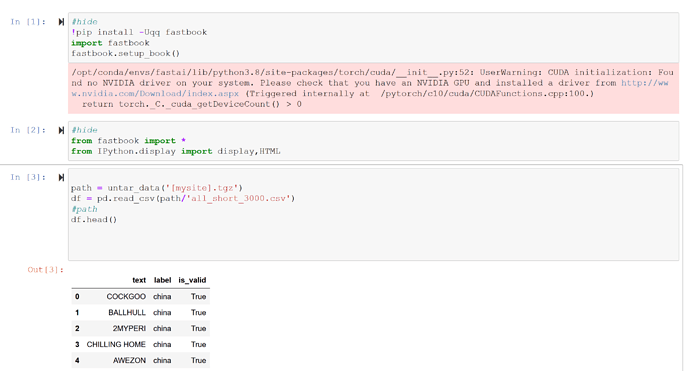 /opt/conda/envs/fastai/lib/python3.8/site-packages/numpy/core/_asarray.py:83: VisibleDeprecationWarning: Creating an ndarray from ragged nested sequences (which is a list-or-tuple of lists-or-tuples-or ndarrays with different lengths or shapes) is deprecated. If you meant to do this, you must specify 'dtype=object' when creating the ndarray
return array(a, dtype, copy=False, order=order)
---
IndexError Traceback (most recent call last)
in
5 splitter=ColSplitter())
6
----> 7 dls = imdb_lm.dataloaders(df, bs=10, seq_len=100)
8 dls.show_batch(max_n=6)
9 """
/opt/conda/envs/fastai/lib/python3.8/site-packages/fastai/data/block.py in dataloaders(self, source, path, verbose, **kwargs)
111
112 def dataloaders(self, source, path='.', verbose=False, **kwargs):
–> 113 dsets = self.datasets(source, verbose=verbose)
114 kwargs = {**self.dls_kwargs, **kwargs, 'verbose': verbose}
115 return dsets.dataloaders(path=path, after_item=self.item_tfms, after_batch=self.batch_tfms, **kwargs)
/opt/conda/envs/fastai/lib/python3.8/site-packages/fastai/data/block.py in datasets(self, source, verbose)
108 splits = (self.splitter or RandomSplitter())(items)
109 pv(f"{len(splits)} datasets of sizes {','.join([str(len(s)) for s in splits])}", verbose)
–> 110 return Datasets(items, tfms=self._combine_type_tfms(), splits=splits, dl_type=self.dl_type, n_inp=self.n_inp, verbose=verbose)
111
112 def dataloaders(self, source, path='.', verbose=False, **kwargs):
/opt/conda/envs/fastai/lib/python3.8/site-packages/fastai/data/core.py in init(self, items, tfms, tls, n_inp, dl_type, **kwargs)
308 def init(self, items=None, tfms=None, tls=None, n_inp=None, dl_type=None, **kwargs):
309 super().init(dl_type=dl_type)
–> 310 self.tls = L(tls if tls else [TfmdLists(items, t, **kwargs) for t in L(ifnone(tfms,[None]))])
311 self.n_inp = ifnone(n_inp, max(1, len(self.tls)-1))
312
/opt/conda/envs/fastai/lib/python3.8/site-packages/fastai/data/core.py in (.0)
308 def init(self, items=None, tfms=None, tls=None, n_inp=None, dl_type=None, **kwargs):
309 super().init(dl_type=dl_type)
–> 310 self.tls = L(tls if tls else [TfmdLists(items, t, **kwargs) for t in L(ifnone(tfms,[None]))])
311 self.n_inp = ifnone(n_inp, max(1, len(self.tls)-1))
312
/opt/conda/envs/fastai/lib/python3.8/site-packages/fastcore/foundation.py in call(cls, x, *args, **kwargs)
95 def call(cls, x=None, *args, **kwargs):
96 if not args and not kwargs and x is not None and isinstance(x,cls): return x
—> 97 return super().call(x, *args, **kwargs)
98
99 # Cell
/opt/conda/envs/fastai/lib/python3.8/site-packages/fastai/data/core.py in init(self, items, tfms, use_list, do_setup, split_idx, train_setup, splits, types, verbose, dl_type)
234 if do_setup:
235 pv(f"Setting up {self.tfms}", verbose)
–> 236 self.setup(train_setup=train_setup)
237
238 def _new(self, items, split_idx=None, **kwargs):
/opt/conda/envs/fastai/lib/python3.8/site-packages/fastai/data/core.py in setup(self, train_setup)
252 self.tfms.setup(self, train_setup)
253 if len(self) != 0:
–> 254 x = super().getitem(0) if self.splits is None else super().getitem(self.splits[0])[0]
255 self.types = []
256 for f in self.tfms.fs:
/opt/conda/envs/fastai/lib/python3.8/site-packages/fastcore/foundation.py in getitem(self, idx)
109 def _xtra(self): return None
110 def _new(self, items, *args, **kwargs): return type(self)(items, *args, use_list=None, **kwargs)
–> 111 def getitem(self, idx): return self._get(idx) if is_indexer(idx) else L(self._get(idx), use_list=None)
112 def copy(self): return self._new(self.items.copy())
113
/opt/conda/envs/fastai/lib/python3.8/site-packages/fastcore/foundation.py in _get(self, i)
113
114 def _get(self, i):
–> 115 if is_indexer(i) or isinstance(i,slice): return getattr(self.items,'iloc',self.items)[i]
116 i = mask2idxs(i)
117 return (self.items.iloc[list(i)] if hasattr(self.items,'iloc')
/opt/conda/envs/fastai/lib/python3.8/site-packages/pandas/core/indexing.py in getitem(self, key)
877
878 maybe_callable = com.apply_if_callable(key, self.obj)
–> 879 return self._getitem_axis(maybe_callable, axis=axis)
880
881 def _is_scalar_access(self, key: Tuple):
/opt/conda/envs/fastai/lib/python3.8/site-packages/pandas/core/indexing.py in _getitem_axis(self, key, axis)
1494
1495 # validate the location
-> 1496 self._validate_integer(key, axis)
1497
1498 return self.obj._ixs(key, axis=axis)
/opt/conda/envs/fastai/lib/python3.8/site-packages/pandas/core/indexing.py in _validate_integer(self, key, axis)
1435 len_axis = len(self.obj._get_axis(axis))
1436 if key >= len_axis or key < -len_axis:
-> 1437 raise IndexError("single positional indexer is out-of-bounds")
1438
1439 # -------------------------------------------------------------------
IndexError: single positional indexer is out-of-bounds