Hey folks,
just wanted to share with you about a new package fastai-rawpy that I've developed and uploaded to PyPI.
fastai-rawpy on PyPI:
TL;DR:
If you want to use RAW image files for vision tasks,
you can install fastai-rawpy and it then enables RawImageBlock(),
which is replaceable with ImageBlock() in order to use the RAW image files.
Why use RAW image files?
Depending on your tasks, it could be useful. They are much more detailed than JPG, PNG, BMP formats, etc (on which PIL is mostly based), and the latters are anyway derived from the RAW image files.
Here are the results I got after I compared the training of two datasets (RAW vs JPG) of the same photos and fixed variables for a regression vision task. The SSIM metric demonstrates how similar two separated images are to each other [0 - Not at all, 1 - Identical]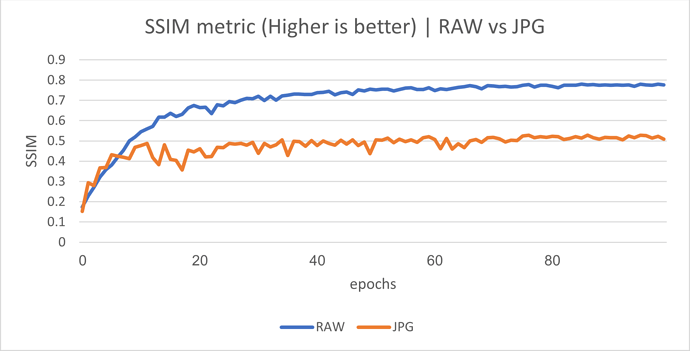 Using RawPy (which is based on LibRaw) lets you benefit from a lot of the postprocess() feature, in addition to many other methods that RawPy offers.
How to use?
Explanations here:
Practical example:
Special thanks
to many members here who have supported and guided in technical as well as conceptual issues. Either implicitly or explicitly made a huge contribution to this package to come final.
These are: (and forgive me if I've missed somebody, get welcome to contact me to add your name here)
Note
This is my first ever published package that I've worked on, so I'd be glad to improve and learn more. If you got an idea, issue, or suggestion, please contact me and I'll gladly make improvements. If there are bugs or errors, please contact me and I will try to fix them…
Thanks!