Hello everyone,
I'm developing a project about the lecture of chest x-rays images, it's my first ever project on Deep Learning.
I'm trying to make functional a Multi Object Detection notebook originally created by my professors as a Single Object Detection notebook.
The issue I have is that when I run the function lr_find() I get the following error:
RuntimeError: The size of tensor a (8) must match the size of tensor b (4) at non-singleton dimension 2
The goal is to detect for each chest x-ray image of the dataset the lungs of the image separately by creating one bounding box for each lung. The following image illustrates the goal: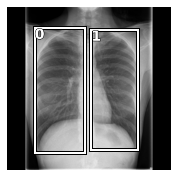 At the end of this message I post the key parts of the notebook.
I would appreciate any suggestions to help me fix the error mentioned before.
Thank you.
Notebook's Code:
def get_bboxes(f):
PILImage.create(path+f)
# Get the annotations of the bounding boxes of the lungs of the rx image with filename "f"
fullAnnot = np.genfromtxt(img2txt_name(Path(f)))
bboxes = np.zeros((2,4))
for i in range(len(fullAnnot)):
cx = int(fullAnnot[i][1]*img.size[0])
cy = int(fullAnnot[i][2]*img.size[1])
w = int(fullAnnot[i][3]*img.size[0])
h = int(fullAnnot[i][4]*img.size[1])
bbox= np.zeros(4)
#minx miny maxX maxY
bbox[0] = float(cx-w/2.0)#/img.size[0]#*img_size
bbox[1] = float(cy-h/2.0)#/img.size[1]#*img_size
bbox[2] = float(cx+w/2.0)#/img.size[0]#*img_size
bbox[3] = float(cy+h/2.0)#/img.size[1]#*img_size
bboxes[i] = bbox
return bboxes
def get_labels(f):
fullAnnot = np.genfromtxt(img2txt_name(Path(f)))
labels = fullAnnot[:,0]
return labels
get_y = [lambda o: get_bboxes(o.name), lambda o: get_labels(o.name)] # lambda o: means for each file on the dataset, o.name = filename
data = DataBlock(
blocks=(ImageBlock, BBoxBlock,BBoxLblBlock), # ImageBlock means type of inputs are images; BBoxBlock & BBoxLblBlock = type of targets are BBoxes & their labels
get_items=get_image_files,
n_inp=1, # number of inputs; it's 1 because the only inputs are the rx images (ImageBlock)
get_y=get_y, # get_y = targets [bboxes, labels]; get_x = inputs
splitter = RandomSplitter (0.1), # split training/validation; parameter 0.1 means there will be 10% of validation images
batch_tfms= [*aug_transforms(do_flip=False, size=(120,160)), Normalize.from_stats(*imagenet_stats)]
)
class LungDetector(nn.Module):
def init(self, arch=models.resnet18): # resnet18 has 18 lineal layers and it's the default arch if none arch is set as parameter
super().init()
self.cnn = create_body(arch) # cut off the body of a typically pretrained arch
self.head = create_head(num_features_model(self.cnn), 4+4)
def forward(self, im):
    x = self.cnn(im)
    x = self.head(x)
    return 2 * (x.sigmoid_() - 0.5)

def loss_fn(preds, targs, class_idxs):
return L1Loss()(preds, targs.squeeze())
learn = Learner(dls, LungDetector(arch=models.resnet50), loss_func=loss_fn)
learn.metrics = [lambda preds, targs, _: IoU(preds, targs.squeeze()).mean()]
learn._split([learn.model.cnn[:6], learn.model.cnn[6:], learn.model.head])
learn.freeze_to(-1)
learn.lr_find()