I've tried to reproduce the BERT + Fastai article but have run into an issue. @abhikjha
My code is in this gist. It will run on Colab…
It doesn't seem to work for cases with two labels (I've yet to try with five, as used in the original; but it doesn't work for two).
I'm encountering two errors:
The model assigns the same probability to every text snippet (which is not high enough to classify any text as one of the two classes). The "accuracy" is just a measure of how many snippets are NOT labeled as one of the two classes. This is clear in how the accuracy is not changing over epochs.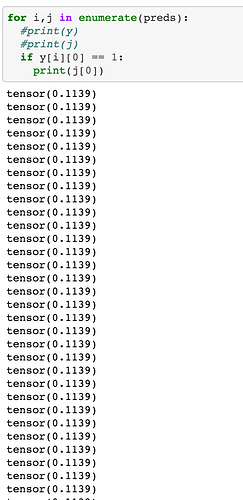 I've made only a few modifications from the article.
I removed three of the columns from the jigsaw dataset so this is a multi-classification but there are only two classes to choose from rather than five.
As a result, when BERT is imported, I do: bert_model_class = BertForSequenceClassification.from_pretrained('bert-base-uncased', num_labels=2) (setting num_labels to two)
I don't split the layers for the discriminant analysis.
In the original post, fit_one_cycle is parameterized for having more layers. Ie.,: .fit_one_cycle(2, max_lr=slice(1e-5, 5e-4), moms=(0.8,0.7), pct_start=0.2, wd =(1e-7, 1e-5, 1e-4, 1e-3, 1e-2)). I choose simple defaults (chosen from the learning rate finder). So I am not passing in tuples.`
Does anyone know why this is happening? I will try with more classes but wanted to check here first…
In case it's not obvious the dataset looks like this.