Hi everyone,
Quick Note of thanks to @balnazzar @lesscomfortable @howkhang @radek for their suggestions with the part selection.
I have created a separate thread to not just show off my build, but because I'm pretty sure that I won't be using this to its full extent during the initial few weeks, I want to offer compute help to anyone in the community who would like to explore more open source ideas out of fast.ai or PyTorch but is restricted by the cloud pricing. Hopefully @jeremy will let me get away with the few RGB photos of spam that will follow in this thread.
Please feel free to DM me or comment in this thread if you need some CUDA Power, I'll be most happy to help.
Meet Neutron: A build to prep for Part-2 (and more Kaggling)
I've finally decided to put my "Skin in the game".
Please meet Neutron, an investment for DL by @rishi_mrb and me.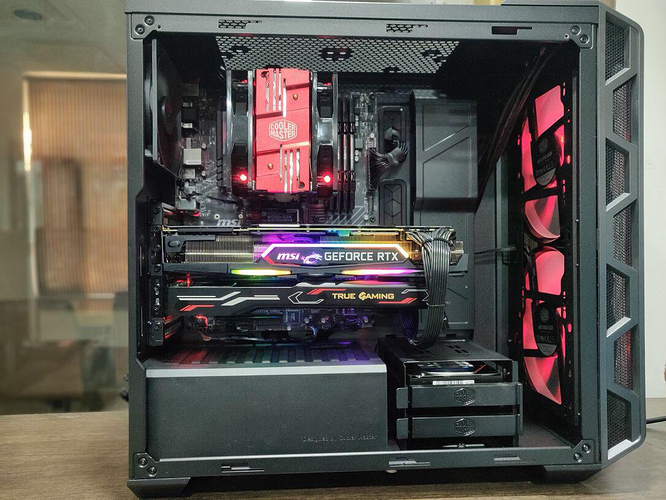 PS: I have a fastai glowing LED that I have ordered, should look pretty cool once I add it.
Build details:
CPU: i7-8700K
CPU cooler (Thanks to @lesscomfortable I saved money by not installing a liquid cooler-turns out the case is doing okay without it) CoolerMaster Hyper 212 LED Turbo
GPU: MSI Gaming Trio X 2080Ti
Motherboard: MSI Z370 PC Pro
Case: Coolermaster H500 (grey)
RAM: 4*16 GB G.Skill Ripjaws 3200MHz
Storage: 512GB Samsung 970 Pro NVMe M.2 SSD, 2 TB HDD
Please feel free to ask if my selection look dumb or if you have any suggestions. I have tried to explain my choices in the little writeup as well.
Best,
Sanyam