I remember taking the fastai course for the first time
"OMG this is so high level, how is this even learning? Where are the derivatives?"
That was at a time when I studied machine learning.
I didn't compete at Kaggle. I didn't have an ML job. I watched lectures, read books and papers, pondered set theory and the construction of real numbers, I didn't even realize that PyTorch (or anything else with autograd) existed and I wrote code like this.
Fast forward 5 years to this week's lecture. Having worked in ML for the last 4 years or so
"OMG this is so low level. Ahhh so this is how we calculate the bias term, and this is where we stick with torch.no_grad(). Ahhh, I see."
I found this experience quite surprising
What is the meaning of all this?
On one hand, it might be that what you do in the workplace, how you bring value to the world, is very far removed from the perception of learning instilled in us at school.
The acquisition of skills that make us valuable in the real world might not feel like learning at all!
Case in point – the job that I started just recently. I am getting so much value in my work from
being able to identify what is important to focus on (we practice this as we learn a new way of reading papers which will most likely be discussed later in the course)
how to learn from jupyter notebooks created by others (this literally mirrors the process of doing the fastai homework!)
being able to set up my own work environment, install software libraries, navigate to parts of the codebase that are relevant without giving it too much thought, all of this has become second nature to me and is something that we practice in this course
And the list above doesn't even mention probably the biggest component of what I do on a regular basis, that probably led to me having ML jobs in the first place, and that is technical writing! Something that felt like play, that I only continued to practice because of fastai, but that actually turns out to be the real work despite seeming to the contrary! (a great blog post on how to get started)
Another lesson I derive from this experience is that your perception of what is covered in the course speaks more about you and where you are in life than about the course itself.
The best thing one can do for oneself is to approach the course with an open mind. Follow the instructions and withhold your disbelief for as long as you can.
From that it springs, that the best way to evaluate this course is not by how you feel about it now but by the effects it produces for the ones who have taken the course some time ago.
And the effects are quite good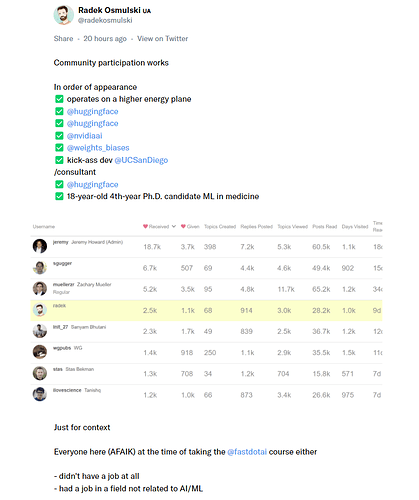 I wanted to share this as a tweet but I got second thoughts after the fact. Yes, the anxiety about sharing things online might never go away!
Very excited and grateful to be on this journey with all of you