I'm a complete newbie in this course, so this is my first time reaching out for help. I'm working on "Lesson2-download" and have successfully completed the first several cells to create the image folder structure.
For my assignment, I'm doing an analysis of three types of catfish: blue, channel, and flathead. For each, I created the CSV: data\catfish<type><type>_catfish.csv":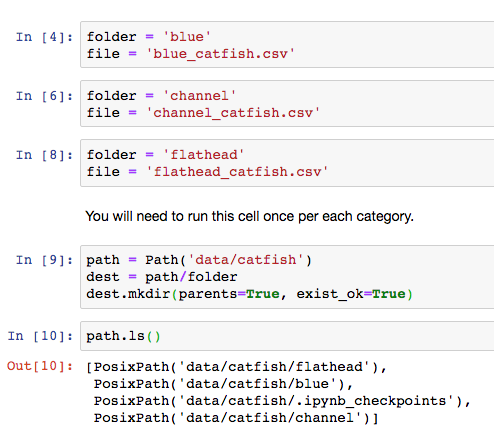 However, I keep getting this error:

I've tried different computers and browsers, but to no avail. I've also tried renaming the files to .txt, but that didn't help either. I've even renamed the "data/catfish" path to the full "tutorials/fastai/course-v3/nbs/dl1/data/catfish" path, but that didn't work, either.
No matter what I try, it tries to find the file in the "data\catfish" folder. I've even tried modifying the "folder" variables to include the subfolder (i.e. Path('data/catfish/blue'), but it then reports the path correctly while still claiming the file doesn't exist.
What am I doing wrong?
Thanks!
Jeff