Hi All,
I started with Lesson 2 video yesterday. I created a model to classify the Indian street food, Pav Bhaji and Misal Pav, thought it would be interesting as both these dishes look very similar in photos.
I am using Google Colab, and got the error_rate to 0.265823.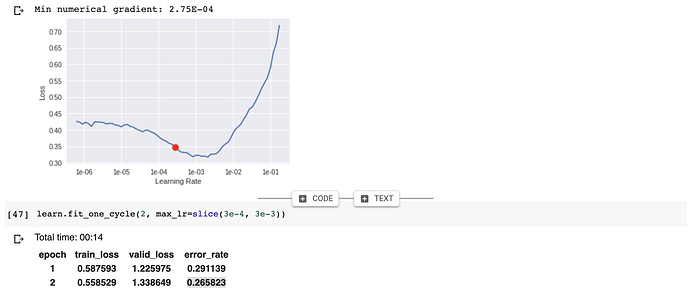 I wanted to improve it further by cleaning up the data, However I couldn't find the
FileDeleter
method as shown in the video, so I followed the tutorial from this
GitHub link
and used the
ImageCleaner
ds, idxs = DatasetFormatter().from_toplosses(learn, ds_type=DatasetType.Valid)
ImageCleaner(ds, idxs, path)
but whenever I run the
ImageCleaner
, my Google colab instance gets disconnected and after reconnecting, the code cell becomes unresponsive as it keeps spinning.
Has anybody else faced the same problem?