Hello,
As an exercise I build up a Notebook to classify Boeing 747 vs Airbus A380 :

Here you will find the dataset : http://52.167.231.0/datasets/boeing_vs_airbus.zip (3 Gb build from © Google Images, please don't share it outside of the course)
My goal is to beat Google AutoML who achieve an accuracy of 94% : https://github.com/trancept/deep_learning_tests/blob/master/010-GoogleAutoML.ipynb
It's based on a Notebook I did for V2 of the course to test different improvement solution.
I more than achieve it with previous version with an accuracy of 98% : https://www.linkedin.com/pulse/how-beat-google-automl-image-classification-benoit-courty/
But V3 is different so the training perform differently. For now it's worse, I've to learn more about the new API.
For example this plot is weird:
learn.recorder.plot()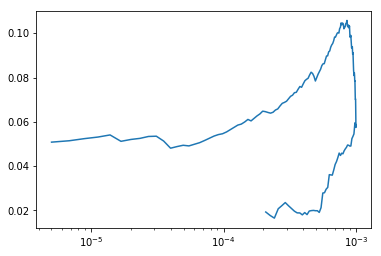 (Edit from Jeremy - turns out the plot isn't weird; see below for details).
Let me know if you find this useful and like to work with me to improve it : Let's fight Google together