Hi all,
After finishing lesson 1, I went ahead and collected images for my own dataset in order to train a model to learn from it. The subject I chose to classify were herbs (specifically sweet basil, Thai basil, cilantro/coriander, and Italian parsley). I built my dataset using the lesson2-download notebook and manually cleaned the data (I'm using Google Colab so certain cells in that notebook could not be run).
My first time training the model, I used 4 epochs and I got an error rate of about ~21%. I continued the steps in the notebook, unfreezing the model then training it with specific learning rates passed into fit_one_cycle. After finishing all this, I decided I wanted to try and get a better error rate, so I restarted the runtime, and repeated the steps. However, this time I used 8 epochs instead of 4 (the bottom of the notebook stated that one of the things that could go wrong was training with too little epochs, so I decided to double the original amount).
What I'm confused about is the resulting error rates: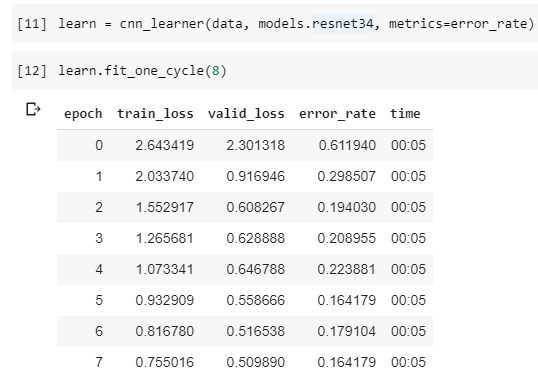 Can anyone explain to me how the error rate can fluctuate (epoch 2-5) where it goes down then up then back down? Could it somehow be the nature of my data? I had a very hard time distinguishing certain images of herbs from one another (cilantro vs parsley).
Please let me know if there is any other information I can provide that would make anything more clear! Thank you so much. I appreciate any input/advice