I try to use method validate of learner. And found a litle bit confusing thing.
There is a result of some training: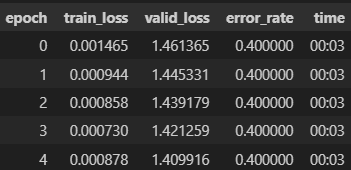 When I use this code:
learn.validate(0), learn.validate(1)
I get this output
((#2) [0.00040706488653086126,0.0],
(#2) [1.4099156856536865,0.3999999761581421])
The second output is equal to the validate loss and error rate (for validate set I guess). But I don't understand about the output of the learn.validate(0). It is not equal to the train_loss.
.
.