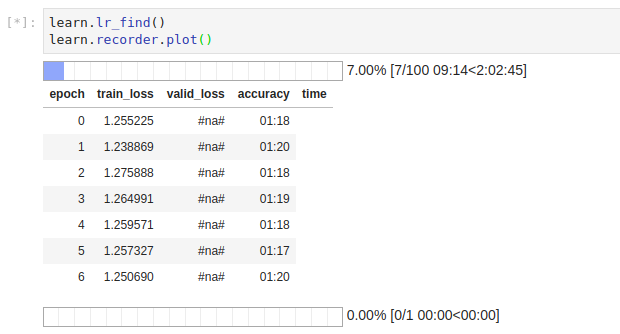 When I try to plot the learning rate, it is behaving oddly and is taking way too long to plot the graph. The image currently shows 7 iterations but it goes till default 100 which is taking around 2 hours just to plot the graph. I am currently using this on Jupyter Lab in GCP.
I then tried to pass a smaller number for the iterations and got the following graph and message
Also, before this I got the following error message while plotting the graph:
Error: libsixel is needed. See https://github.com/saitoha/libsixel
This also never came before, but I fixed this by installing 'Libsixel' via pip command.
This didn't use to happen previously so I'm not sure what triggered this change or why is this happening suddenly. Any suggestions on how to fix it or what I am doing wrong would be really helpful