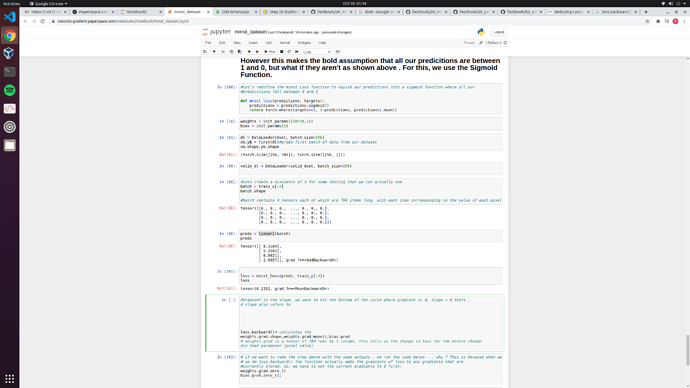 Hi all I am at lesson 4 : https://www.youtube.com/watch?v=p50s63nPq9I&t=1234s
My query is with regards to 36:09 of the video:
Previously whenJeremy explained loss function he showed us a y=x**2 graph and explained gradient descent on that graph.
However now I am using a sigmoid function as shown below to get my values
def mnist_loss(predictions, targets):
predictions = predictions.sigmoid()
return torch.where(targets==1, 1-predictions, predictions).mean()
so when i do : loss.backward()
SO from what I understand each of loss for my predictions are being forced to fit onto each of their own y=x**2 graph and each of these would be telling me:
Your prediction's loss is at point P on a y = x**2 graph. weights.grad tells you how much the loss changes if we change each of your parameters(weight values for each pixel) by a small amount .
Do help me clarify this.
Also the above makes sense but I cant wrap my head around , If I am using the sigmoid function why am I making each of my prediction's loss sit on a y=x2 curve and gradient descent is being done on that curve? How come it is always a y=x2 curve
also y = x**2 refers to y = square of x … just incase different people refer to it differently