Hi, I've tried to use the vanilla notebook from the coo repo and get the error rate ~ 4 to 7% after around 15 epochs.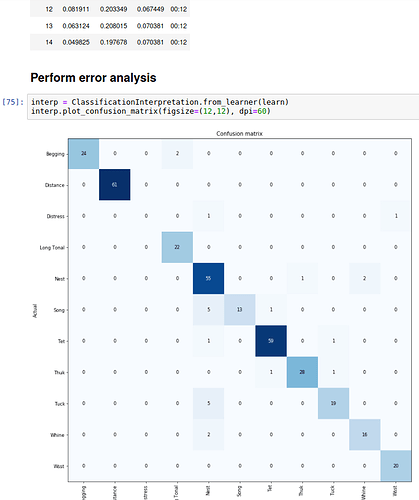 And the most_confused:
interp.most_confused(min_val=2)
[('Song', 'Nest', 5),
('Tuck', 'Nest', 5),
('Begging', 'Long Tonal', 2),
('Nest', 'Whine', 2),
('Whine', 'Nest', 2)]
It seems the "Thuk, Tuck" are actually not so confused than the Nest one.
@radek, for the Task#5 .what do you mean by unsupervised way ? I'm thinking about working on this task and I think that I still need the label. I summarize what I will do as below:
Run a Siamese network to extract feature (I read before that with matching model like Siamese we will have better feature to cluster, than classification model like resnet)
Run clustering model (ex DBscan) through all the data to find the clusters and extract the anomaly sample. Or Running directly Anomaly Detection (ex Isolation Forest) in just one class to detect the anomaly sample
Do you have any suggestion ?
Thanks