Hello, beginner here.
I'm going through lesson one and I have created an image set of bitcoin price charts in 5 minutes steps over the last three month and my goal is to predict when the market goes into price fluctuation panic.
I know that this probably won't earn me millions, but it's fun to experiment.
So I have images like this:

Each image is labeled hodl (the price does not change in the next 5/10/15 minutes), bear (the price drops in the next 5/10/15 minutes)and bull (the price raises in the next 5/10/15 minutes).
Since there are a lot more sideway movements than price changes I have:
21654 hodl sets
2195 bear sets
1971 bull sets
The net clocks in at an error rate below 10 percent. That's sounds a bit too good to be true. I wonder if that comes from the fact that there are way more hodl sets and it just "accidentally" get's a lot of those right, because it's so likely to predict that correct:

The confusion matrix does not look too bad. It rarely confuses bear and bull, but there is a significant confusion with bear / hodl.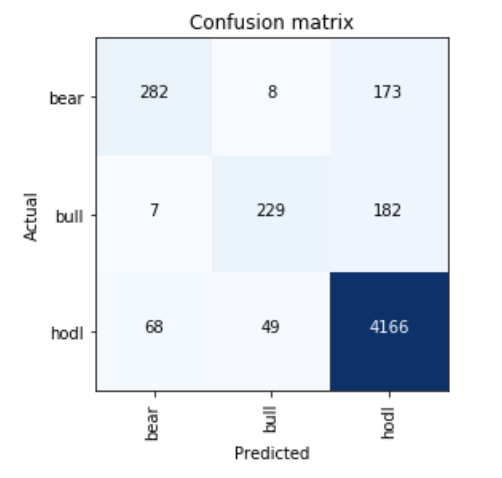 I'm struggling a bit to make sense of wether this is now a model that performs reasonably well (it basically has to beat the 0.25% trading fee in the long run) or if I'm just not interpreting the metrics correctly?
How to interpret the train / valid loss and what loss value is even a good one?
Note that I'm doing this just for learning, I don't expect to make a lot of money here :-).
Thanks for opinions.