Hi, I have a problem with my classifier.
As the title says, my CNN only picks 2 classes out of 20, in my confusion matrix it places 0's in all other classes. I think the problem is de loss function I have used BCEWithLogitsLossFlat and CrossEntropyLossFlat but with CrossEntropyLossFlat the confusion matrix set 0's in all the classes, my precision is low and my recall high with both loss functions.
This is the code of my learner
learn = cnn_learner(src, arch = resnet18 ,metrics = [accuracy_multi, PrecisionMulti(average='micro'),RecallMulti(average='micro'),F1ScoreMulti(average='micro'),RocAucMulti(average='micro')] ,normalize=True,pretrained=True, loss_func = BCEWithLogitsLossFlat())
I put a image of the confusion matrix, this is just an example in which I reduced the classes to 4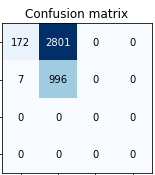 Does anyone know how to solve it or go through the same thing?
Regards