Hi Everyone,
I've been working with images from the free stock photos website Pexels in my experiments finetuning Stable Diffusion.
I have a large dataset of images and image attributes (e.g., descriptions, tags, etc.) and thought I would share it with the community. Specifically, the dataset contains 110,715 109,971 images (had to remove a few panoramic images). Each image has a title/prompt at minimum.
Kaggle Datasets
Sample Image with Depth Map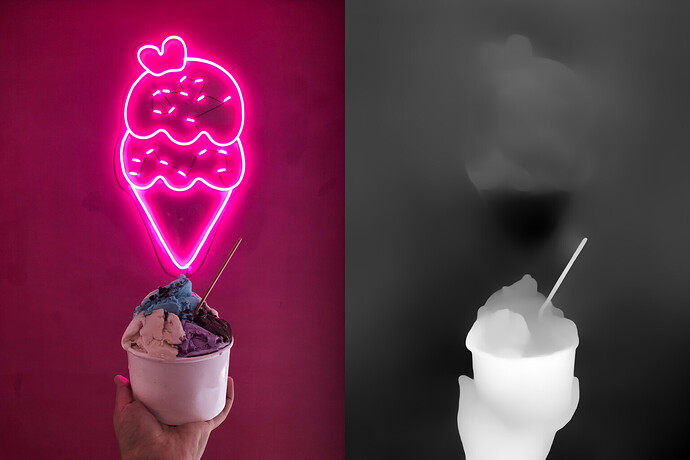 Sample Entry
img_id
3186010
title
Pink and White Ice Cream Neon Signage
aspect_ratio
0.749809
main_color
[128, 38, 77]
colors
[

#000000

,

#a52a2a

,

#bc8f8f

,

#c71585

,

#d02090

,

#d8bfd8

]
tags
[bright, chocolate, close-up, cold, cream, creamy, cup, dairy product, delicious, design, dessert, electricity, epicure, flavors, fluorescent, food, food photography, goody, hand, ice cream, icecream, illuminated, indulgence, light pink background, neon, neon lights, neon sign, pastry, pink background, pink wallpaper, scoop, sweet, sweets, tasty]
adult
very_unlikely
aperture
1.8
camera
iPhone X
focal_length
4.0
google_place_id
ChIJkUjxJ7it1y0R4qOVTbWHlR4
iso
40.0
latitude
-7.746914
longitude
113.226906
manufacturer
Apple
medical
very_unlikely
orientation
0.0
racy
unlikely
shutter_speed
software
13.1.3
spoof
very_unlikely
violence
very_unlikely
location
Kecamatan Mayangan, Jawa Timur, Indonesia
I created two versions of the image dataset. One version has images with a minimum dimension of 512, while the other has a minimum length of 768. Both datasets have maximum sizes that are multiples of 32.
I already uploaded the Pandas DataFrame containing the image attributes to a GitHub Repository. I also included notebooks to explore the dataset and download source files from Pexels. Keep in mind that Pexels limits each IP address to about 500 downloads. You can use a VPN to get around this if needed. Also, the source files are rather large.
I plan to upload the two versions of the dataset to Kaggle as the Pexels license is quite generous regarding usage. However, I was hoping someone here would double-check the license's wording to verify it's allowed.