Hi again,
I am trying to install Fastai for cpu users. I am running Windows 10 on Surface Laptop, and have two Anacondas (one for Python 2.7 and another for Python 3.6) i am not very skilled with bash as you could see.
I have some error that i have not seen so far on the Forum, so i do not know if it is appropriate to open a topic or not. Anyway, after running pytest tests I have seen the error ModuleNotFoundError for torchtext.
While running pip install torchtext I got a message that torchtext is successfully installed with a bunch of messages of uninstalled packages which I am not sure they are relevant:



Then I ran pytest tests and got the following errors: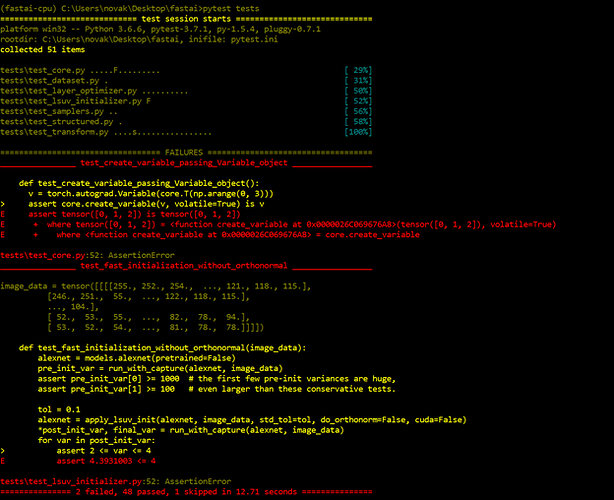 Then I decided to install the version of libraries mentioned in previous message (PyHamcrest, hypothesis…). When I tried to install thinc due to "spacy 2.0.11 has requirement thinc<6.11.0,>=6.10.1, but you'll have thinc 6.11.2 which is incompatible", I have gotten the message: "failed building wheel for thinc" and for cytoolz too, due to
error: Microsoft Visual C++ 14.0 is required. Get it with "Microsoft Visual C++ Build Tools":
http://landinghub.visualstudio.com/visual-cpp-build-tools
The link is offline and then I have tried implicit trick from github
error: Microsoft Visual C++ 14.0 is required
and installed at the end Microsoft Visual Studio 2017.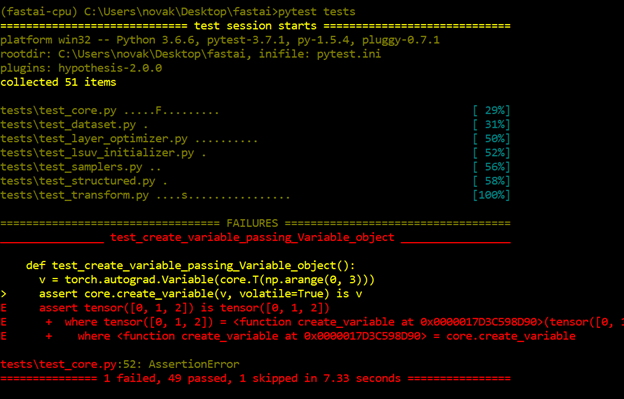 At the end, yes there is, I run pytest tests and got the Assertion error i
error: Microsoft Visual C++ 14.0 is required
n test_core.py
So question is whether you know how I could get rid of the last AssertionError and was it necessairy to install all libraries (PyHamcrest, thinc and so on)?
Please if you happened to know what to do whom I could ask for a help let me know.
Sorry for long story, I am very confused and beginner with installing things so I thought every detail is important.
Any suggestion about way of posting is welcome.
Thanks a lot for your time and hope we will learn something out of this adventure.
Best,
Milica