Ok here's what happened. No matter how hard I try changing epochs or learning rate val_loss is still lower than train_loss. I'm trying to do a classification of my native language script alphabets, with 84 classes. Here's my code and result's by far: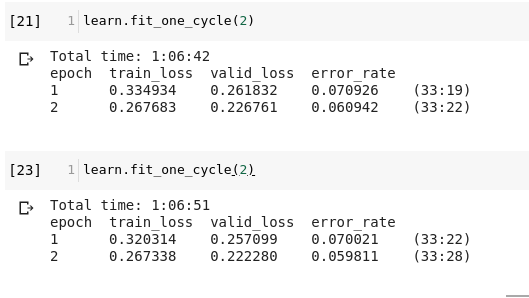 Code: https://colab.research.google.com/drive/1o2uGnYfD4IX2ij7M2ZrHcqpN-FFk_Lom
Now the problem is, colab is dying often(after 4 hours once, and after 6 hours of train another time yielded no result), and is slow(taking about 1sec for a batch, and I have a huge dataset); so after training of say 6 epochs (almost 3.5 hours) if I find a few more epochs would have made it. But to add two epochs will add a 5 hour penalty, since I have to run learn.fit_one_cycle(8) instead of learn.fit_one_cycle(2) which will take 1 hr more. I can't use learn.fit_one_cycle(2) because as you can see from the screenshots the loss is increasing (and it should because the learning rate should've decreased I guess, instead it is increasing). It will be very helpful if someone can say how to bypass this problem.