This is an image recreated from block5_conv1 activations only:
(Loss = 0.53)
For comparison, the best result from the original method: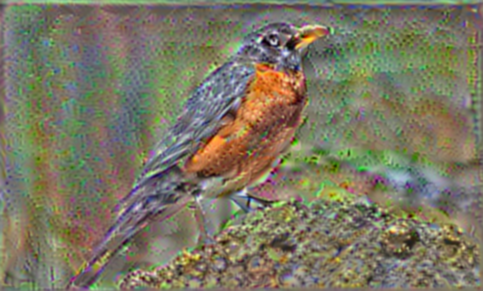 (Loss = 3.19)
Code: https://github.com/aizvorski/fastai-2-work/blob/master/neural-style-better-optimizer.ipynb
How does this work?
Whenever the BFGS optimizer falls into a local minimum, blur the image and continue.
This one took 994 iterations and ~150 blurs to reach loss=0.53, and it is likely that it is not fully converged yet (I don't know how long it would take to converge).
For comparison the original BFGS-only method finds a local minimum after 15 iterations, with loss=3.19, and does not improve at all after that.
Why does this work?
I suspect it is because the gradient is always in the direction of making neighboring pixels very different, and going in the direction of the gradient produces random strong edges all over the place (this is the patterned artifacts you see with the original code).
To counter this, we can just keep blurring the edges away, which is the brute force approach.
A more elegant approach would be to add a loss term that penalizes edges, or more generally to add a loss term for pixel-pixel correlation statistics that look too different from those of a real image. Then the local minima would probably disappear.