Looks like Google quietly turn on free TPU v2 for Google Colab 2 days ago. I first got to know about this from yesterday's TensorFlow and Deep Learning group meetup in Singapore with Google's engineers talking about TensorFlow 2.0. GPU hardware accelerator is still available. If I heard correctly, this will be available for a limited time only. I have tested this by trying to train a simple MNIST model and it works for me in this part of the world. I am planning to do a quick benchmark and compare the performance with GPU later.
Note that TPU v3 is in Alpha testing and not available to the everyone yet.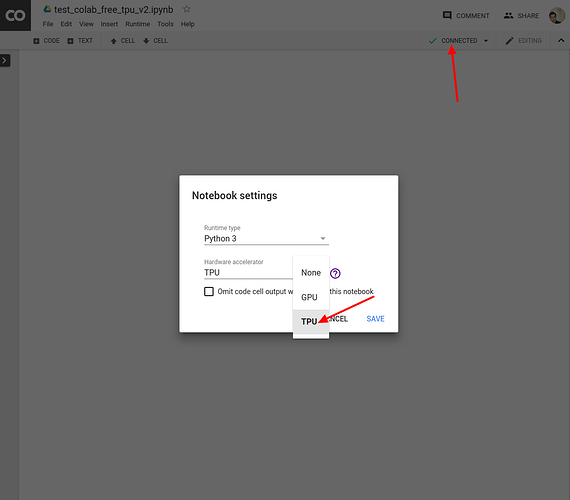 See my Twitter thread for more details.

---
1. Updated on 2018-09-28 12:36 PM GMT+8:
Slides and the notebook for samwit's talk, "Get training in TensorFlow Keras on TPUs for free!!":
https://colab.research.google.com/drive/1F8txK1JLXKtAkcvSRQz2o7NSTNoksuU2
2. Updated on 2018-09-28 17:30 PM GMT+8:
MNIST benchmark done. Obviously training MNIST on a TPU is a bit overkill and the TPU barely gets a chance to warm up.
One epoch took around 3s!!!
My notebook: https://nbviewer.jupyter.org/github/cedrickchee/data-science-notebooks/blob/master/notebooks/tensorflow/google_cloud_tpu/guide_to_tensorflow_keras_on_tpu_mnist.ipynb