I am trying to use Densenet 121 pretrained model to fine-tune on my data. I am getting following error:
ValueError: some parameters appear in more than one parameter group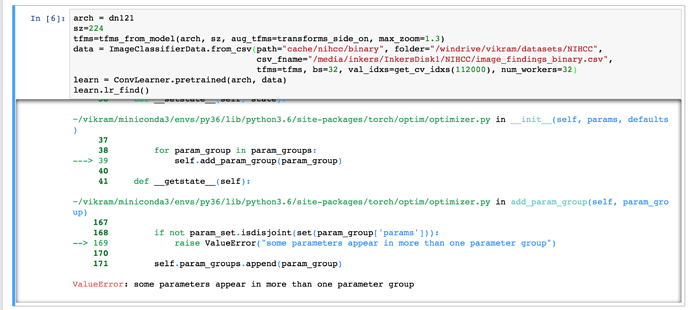 I am using dn121 defined in fastai.torch_imports. This is how dn121 is defined:
def dn121(pre): return children(densenet121(pre))[0]
dn121 is using torchvision's model densenet121. Does this error mean the problem is related to pytorch and not fastai?
Can anyone tell me what is this error and how to fix it? Thanks in advance.
EDIT:
Complete Error Stack
---------------------------------------------------------------------------
ValueError                                Traceback (most recent call last)
<ipython-input-14-4c49f1620610> in <module>()
      6                                     tfms=tfms, bs=32, val_idxs=get_cv_idxs(112000), num_workers=32)
      7 learn = ConvLearner.pretrained(arch, data)
----> 8 learn.lr_find()

~/vikram/fast_ai/fastai/courses/dl1/fastai/learner.py in lr_find(self, start_lr, end_lr, wds)
    133         """
    134         self.save('tmp')
--> 135         layer_opt = self.get_layer_opt(start_lr, wds)
    136         self.sched = LR_Finder(layer_opt, len(self.data.trn_dl), end_lr)
    137         self.fit_gen(self.model, self.data, layer_opt, 1)

~/vikram/fast_ai/fastai/courses/dl1/fastai/learner.py in get_layer_opt(self, lrs, wds)
     92 
     93     def get_layer_opt(self, lrs, wds):
---> 94         return LayerOptimizer(self.opt_fn, self.get_layer_groups(), lrs, wds)
     95 
     96     def fit(self, lrs, n_cycle, wds=None, **kwargs):

~/vikram/fast_ai/fastai/courses/dl1/fastai/layer_optimizer.py in __init__(self, opt_fn, layer_groups, lrs, wds)
     15         if len(wds)==1: wds=wds*len(layer_groups)
     16         self.layer_groups,self.lrs,self.wds = layer_groups,lrs,wds
---> 17         self.opt = opt_fn(self.opt_params())
     18 
     19     def opt_params(self):

~/vikram/fast_ai/fastai/courses/dl1/fastai/core.py in <lambda>(*args, **kwargs)
     63 
     64 def SGD_Momentum(momentum):
---> 65     return lambda *args, **kwargs: optim.SGD(*args, momentum=momentum, **kwargs)
     66 
     67 def one_hot(a,c): return np.eye(c)[a]

~/vikram/miniconda3/envs/py36/lib/python3.6/site-packages/torch/optim/sgd.py in __init__(self, params, lr, momentum, dampening, weight_decay, nesterov)
     54         if nesterov and (momentum <= 0 or dampening != 0):
     55             raise ValueError("Nesterov momentum requires a momentum and zero dampening")
---> 56         super(SGD, self).__init__(params, defaults)
     57 
     58     def __setstate__(self, state):

~/vikram/miniconda3/envs/py36/lib/python3.6/site-packages/torch/optim/optimizer.py in __init__(self, params, defaults)
     37 
     38         for param_group in param_groups:
---> 39             self.add_param_group(param_group)
     40 
     41     def __getstate__(self):

~/vikram/miniconda3/envs/py36/lib/python3.6/site-packages/torch/optim/optimizer.py in add_param_group(self, param_group)
    167 
    168         if not param_set.isdisjoint(set(param_group['params'])):
--> 169             raise ValueError("some parameters appear in more than one parameter group")
    170 
    171         self.param_groups.append(param_group)

ValueError: some parameters appear in more than one parameter group