I am wondering what people are using to pick a dropout rate.
On an old thread, someone asked and Jeremy replied:
I am instead offering a modest approach that avoids training a full model for each possible dropout rate.
We are relying on the fact that running with precomputed activations is much faster and we can therefore run a lot of epochs with little cost.
I am suggesting to just loop through the possible dropout rates and run e.g. 10 epochs:
num_epochs=10

lr=1e-1

dropout_rate=[]
min_val_loss=[]
learn.save('temp')
for ps in np.arange(0.5,0.91,0.02):

    dropout_rate.append(ps)
    learn = ConvLearner.pretrained(arch, data, precompute=True,ps=ps)
    learn.load('temp')
    _, ep_vals = learn.fit(lr,num_epochs,get_ep_vals=True);
    min_val_loss.append(min(l[1] for l in list(ep_vals.values())))


learn.load('temp')    

plt.plot(dropout_rate, min_val_loss)

Code could be improved, for example I wonder how to hide the displayed results as the script is running.
This is an example of what I get on the dog breeds data, with resnext101_64. We are plotting best training loss vs. dropout rate.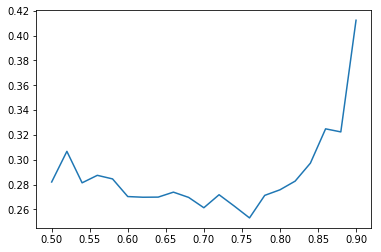 Suggested dropout rate would be 0.77.
I suppose this would only work for the connected layers that we are adding to an existing architecture (so we can use precomputed activations).
Some things to try:
use SGDR to go a bit deeper with each dropout rate
try a different dropout rate for each FC layer (note: by default we have 0.25 and 0.5)
Looking forward to all your suggestions!