Dear all,
I'm happy to announce the release of mpify, a library that makes multiprocessing experiments, multi-GPUs, and Jupyter to play nice together on a single host.
The immediate application is, now it is possible to train fastai2's course-v4 examples (most of them) in distributed-data-parallel mode, using multiple GPUs, within Jupyter itself. E.g.
From this:
To this: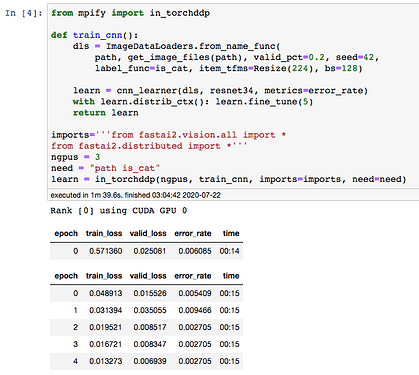 In my previous attempt Ddip for fastai v1, I used a much bigger hammer of ipyparallel. It maintains a persistent pool — cumbersome + lot of state maintenance — and yet the Jupyter shell couldn't get back the trained Learner object after a DDP training loop.
Second time around, thanks to the wonderful multiprocess package (a fork of the standard Python multiprocessing), I've designed mpify to be a general purpose, one-time, multiprocess function execution launcher, in which the Jupyter shell process can participate and get back the result (or results from all processes). No state maintenance, starts from a clean slate every time.
User can provide a custom context manager to set up the execution environment. Enabling distributed training of PyTorch/fastai2 in Jupyter is the first application of that.
What about fastai v1?
Unfortunately I don't have immediate plan to back port this to support fastai v1, in light of the push to shift to v2. But for those who wanna try, I am happy to advise, it's probably only needs a custom context manager.
Feel free to give it a spin. Thanks.