Hello
I am trying to deploy my flask web app, the app has a model i built in lesson 2 using ofc fastai.
the first problem I ran into is heroko free account only allow slugs up to 500mb, and fastai use the pytorch library which originally have more than 500mb, so the trick I found is to force fastai by only download the cpu version of pytorch which is 150mb i guess ( i saw lot of people doing that, and it worked for them)
here's my requirement.txt after I updated it: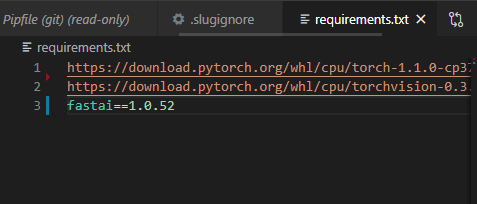 but again i ran into another problem in heroku when I couldn't find an answer for is this:


   "ERROR: torch-1.1.0-cp37-cp37m-linux_x86_64.whl is not a supported wheel on this platform."

can you please suggest any solutions to the problem?