Hello Folks,
I loaded the chest x-ray images (a sample below) (3,224,224 size)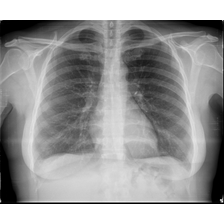 using the following code
src = (ImageList.from_folder('dataset').split_by_folder().label_from_folder().add_test_folder())
data = (src.transform(tfms,size = 224).databunch(bs=16)).normalize(imagenet_stats)
if I call show_batch, it looks like below. It retains the
(3,224,224) shape but why does the image lose its clarity?. Is there a default convert_mode from ImageLoader ruining the quality.?
I tried all convert_mode params in the ImageList.from_folder , none of them seems to work.
in short, the image opens fine in all image viewer software, but in fastai it looks like a line diagram. why?. how can I fix it?
Please advice.