I am not sure how to create labels for ObjectCategoryList, but had an issue with labelling
i am following docs: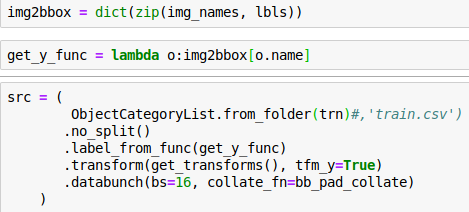 This is how img2bbox[0] looks like:


It tries to index PosixPath which does not support indexing ? If instead of passing a list of PosixPaths, i pass list of image names as in docs, it searches for PosixPaths . I've converted everything as shown in docs (COCO example), but still it provides this error. What does it expect ?
TypeError: 'PosixPath' object does not support indexing
When creating ObjectItemList it throws TypeError: 'float' object is not iterable. Even after using pdb, the reason is not known.
Docs aren't much clear as to on which dim it expectslist( coordinates of bboxes) and list (labels) .